Skip to product information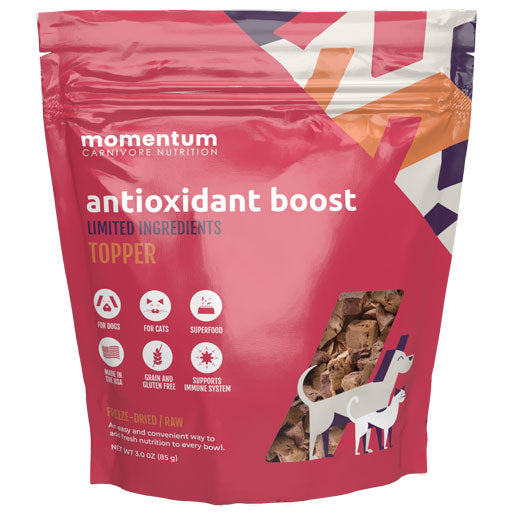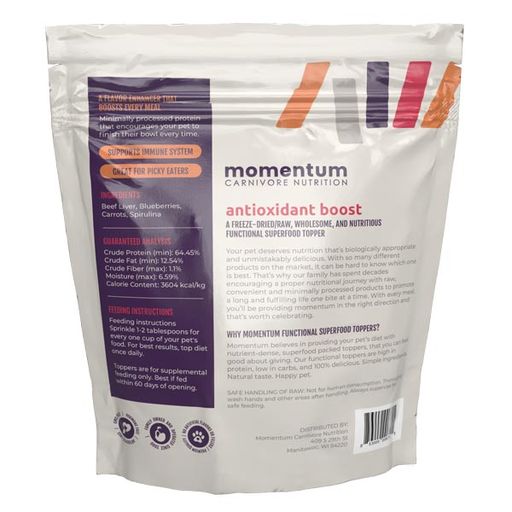 Antioxidant Boost Topper
Sale price
$14.99
Regular price
---
To help your pet live a happy and healthy life, fill their diet with antioxidant-rich foods to support their immune system. The Momentum Carnivore Nutrition Freeze-Dried Raw Antioxidant Boost Topper is bursting with antioxidant-rich ingredients that support good overall health and fight against free radicals linked to illnesses such as diabetes, heart disease, and cancer. Key ingredients include: 
Beef liver.

Beef liver helps support your pet's immune function and boost energy. It's rich in iron, vitamins A, B, and D, folic acid, phosphorus, zinc, and copper.

Blueberries.

Fresh blueberries have some of the highest antioxidant levels of any fruit or vegetable. They're one of the best "superfoods" you can feed your pet  to help reduce damage to cells and boost the immune system.

Carrots.

Carrots contain iron, zinc, and copper — three main minerals to help support your dog and cat's immune system. They also contain immune-boosting vitamin C and vitamin A for an extra dose of health. 

Spirulina.

Spirulina was found to boost the production of white blood cells and antibodies that fight viruses and bacteria in our pets. Spirulina contains a compound called phycocyanin, which is an antioxidant that fights off diseases and minimizes damage to your dog or cat's cells. It's rich in vitamin E, vitamin C, vitamin B6, and minerals to help support a healthy immune system. 
This functional food topper is great to keep your dog or cat's immune system strong and healthy. It's also help for pets showing signs of a weakened immune system, including: 
Low energy, fatigue, and tiredness 

Weakness

Lack of appetite

Bowel irregularities
All of our functional meal toppers are low-calorie with no fillers or artificial flavors, making them a tasty addition to your dog or cat's existing diet! Treat your pet to a strong immune system with this flavor-packed food topper today! 
Beef liver
Blueberries
Carrots
Spirulina

All protein ingredients are humanely raised and sourced in the United States and Canada.
Crude Protein (min): 64.45%
Crude Fat (min): 12.54%
Crude Fiber (max): 1.10%
Moisture (max): 6.59%

Calorie Content: 3604 kcal/kg
Net weight 3 oz
Sprinkle 1-2 tablespoons for every 1 cup of your pet's food. Serve dry or rehydrate with water or goat milk to ensure your pet stays hydrated.

Toppers are intended for intermittent or supplemental feeding only.

Toppers are best stored in tightly sealed packaging.

Keep out of direct sunlight and away from humid temperatures.